Coffee Center hosts fifth annual Sensory Summit
From January 30 – February 1, the UC Davis Coffee Center welcomed the coffee industry to campus for the fifth annual Sensory Summit, organized by the Specialty Coffee Association. The event, held in the Robert Mondavi Institute's Sensory Theater, brings together coffee professionals and sensory scientists to learn from one another to brew a better cup of coffee.
Sensory science is the study of how humans smell and taste food and beverages—in this case, coffee. Any coffee professional can tell you that a good cup of coffee succeeds not only in tasting good, but providing an enriching sensory experience, so it's important to learn the science behind the senses. The goal is to impart professionals with academic knowledge and "sensory literacy" they can take back into the field to make better coffee for their customers.
"We taste things for a living, we smell things for a living. We show up every day and use our senses to do work," said Coffee Science Foundation research director Peter Giuliano during the opening remarks. "We need to communicate in the vocabulary of the senses and that vocabulary is learned by experience."
Over the three days, attendees were treated to presentations by eight leading sensory science experts. Presentations ranged from translating lessons from honey sensing, to exploring the science behind the famous Coffee Taster's Flavor Wheel, to consumer science and how it relates to sensory attributes and what's going on at the chemical level. Some involved tastings and cuppings that give attendees firsthand experience of the scientific concepts.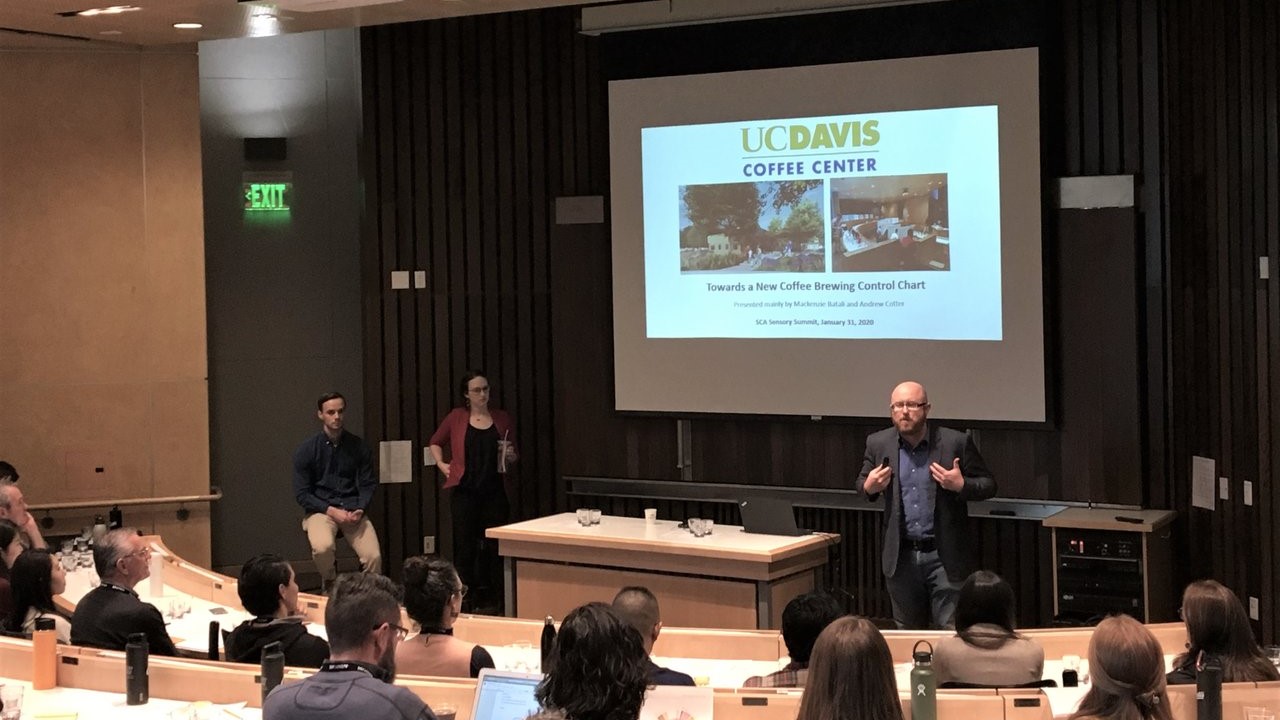 UC Davis presenters included Coffee Center director William Ristenpart, co-director Jean-Xavier Guinard and graduate students Mackenzie Batali, Andrew Cotter and Sarah Yeager, along with Amina Harris from the UC Davis Honey and Pollination Center. Other presenters included researchers from the University of Campinas in Brazil, the Vrij Universiteit Brussel in Belgium and the Monell Chemical Senses Center in Philadelphia.
Between presentations, attendees had the opportunity to socialize and network with their peers and the researchers in a casual setting while sampling top-notch coffee from companies like Curtis, La Marzocco and Toddy. 
Roaster manufacturer Probat not only was the event's primary sponsor, but also recently provided philanthropic support for the UC Davis Coffee Center to hire Juliet Han as the a head roaster and "Probat Roasting Fellow."  Han played a key role roasting the samples tasted at the summit and helped organize the volunteers for the event.
UC Davis is a natural host for the summit since the university has long been a leader in sensory science through its work in wine, beer, honey and olive oil. Since the Coffee Center was established in 2016, it has turned its attention toward a variety of scientific research projects aimed at understanding the science of flavor in coffee. Attendees toured the Coffee Center building and learn more about its mission and vision.
"We are delighted that UC Davis is playing a key role in advancing knowledge about coffee science, and we look forward to sharing our new findings at this event every year," said Ristenpart.
Visit the Sensory Summit website to learn more.
Primary Category
Tags