Juliet Han represents UC Davis at Coffee Fest 2019 Panel
Probat Roasting Fellow Juliet Han served as a panelist this weekend at Coffee Fest Los Angeles 2019. The panel, called "Ask the Experts: Women in Roasting," was a 90-minute Q&A session with Han, Mariana Faerron of Tico Coffee Roasters and Zakiya Mason of Go Get Em Tiger and moderated by Roast Magazine's Claire Harriman.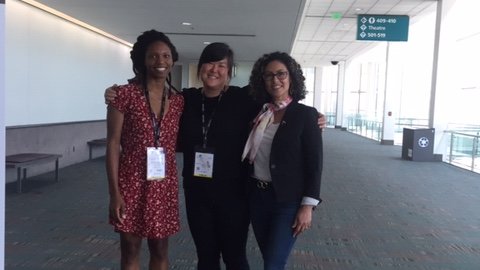 The trio answered questions from the crowd about all topics related to coffee including education and learning resources, different types of roasting equipment and best practices for businesses and collaboration with the specialty coffee industry.
Han, who recently joined UC Davis, has almost 15 years of experience in the coffee industry and 7 as a roaster, most recently at Blue Bottle Coffee. She is the Coffee Center's first full-time staff member. Her panel at Coffee Fest represents the first of many coffee industry events she will be attending in her new role that includes roasting, outreach and teaching.
Coffee Fest is the specialty coffee industry's largest and best-know trade show. It aims to help members of the industry build and refine their businesses through educational programs, workshops and trade show floors. The Los Angeles show is one of three annual Coffee Fests across the country that welcome an estimated 10,000 attendees.
"Everything under the sun that would be found in an upscale coffee shop, on either side of the counter, is found on the exhibition floor," said the show's website.
Anyone from baristas, owners, marketers, entrepreneurs and roasters who are involved in the specialty coffee industry are welcome to attend.
Visit the Coffee Fest website for more information on the event.
Primary Category