Coffee Needs Research: UC Davis' New Coffee Center Dedicated June 25th
Inside the New UC Davis Coffee Center
The UC Davis Coffee Center is the world's first academic research center focused on coffee, aiming to do for coffee what UC Davis has done for beer and wine. Through its research, teaching and mentorship, the center plans to train the next generation of coffee professionals while improving the entire industry and making it more sustainable.
World class research in food science and technology, economics, chemistry, agriculture, sociology and many other fields are percolating at UC Davis' new College of Engineering's Coffee Center. Officially dedicated on Friday, June 25, the center welcomed Chancellor Gary May, Coffee Center director and chemical engineering professor William Ristenpart and postdoctoral researcher Mackenzie Batali, along with others in the field, to speak at their kickoff event.
This well-attended combined research symposium and gala celebration was held at the Robert Mondavi Institute's Sensory Theater, the Putah Creek Lodge and the Coffee Center. Attendees, mainly representatives of the coffee industry, enjoyed a catered meal from Olive and Vine and sipped champagne while hearing about the Center's broad ambitions. 
Ristenpart kicked off the event with a firm declarative statement: "Coffee Needs Research." The lineup of speakers following him demonstrated that this is well underway. 
Presentations ranged from Batali's talk on observable vs. perceived acidity in differently brewed cups of coffee to interviews with coffee producers in Guatemala on how climate, migration and market forces are affecting their businesses, to talks on factors affecting coffee's color, the use of desiccants, and the science of immersion brewing. The graduate student researchers who presented served some coffee samples and stayed on hand to answer questions.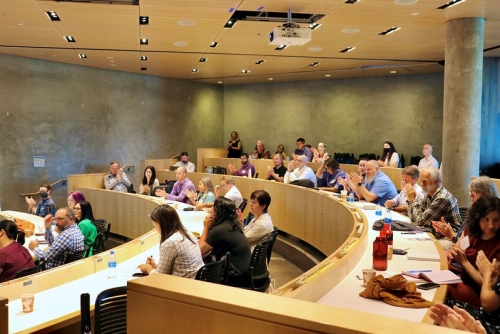 The Center includes over 50 UC Davis faculty members from a range of academic fields and has received funding from a variety of corporate and individual donors in the coffee space. At 6,000 square feet, the multi-bay laboratory facility is located in a recently remodeled materials science lab within walking distance of the Mondavi Institute. The goal is to build on and expand UC Davis' vibrant existing research to create facilities for studying coffee comparable to those for wine and tea. 
The center galvanizes both teaching and research, with Probat Roasting Fellow Juliet Han serving as head roaster and manager of the undergraduate coffee laboratory. A former retail roaster and coffee quality grader, Han represents the center to people inside and outside UC Davis, including students, faculty and coffee industry leaders, in a new position funded for three years by Probat, a maker of coffee roasting equipment. 
She highlights how industry funding helps enable the educational and scientific work of the center.
"The Coffee Center has to be both things: it has to have professional benefit and academic benefit. It is really important that research being done here is public. Part of my role is to help answer questions the coffee industry has, since we don't want to be in this vacuum of academic questions. A lot of researchers just focus on one thing and continue to zero in, but engineers can take the big picture too, and use process flow diagrams to understand big systems, like coffee trading itself for example," said Han.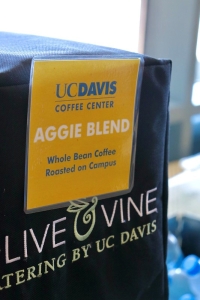 Han oversees "The Design of Coffee," one of the campus' most popular electives, taught by Ristenpart and fellow chemical engineering professor Tonya Kuhl in the undergraduate coffee science lab. The course introduces students to chemical engineering principles while they learn to brew coffee and eventually compete to craft the most delicious beverage using the least amount of energy.
This course was first offered in 2013 and became a hit with students, and the lab guide that accompanies it was re-released to the general public. Other courses explore world history and sociology through the development of coffee culture, and ecology and the economics of agriculture and world trade through the quest for a truly 'just' and ethical cup of coffee. 
Active areas of research at the Coffee Center include fermentation microbiology, chemical kinetics and reaction pathways during roasting, the chemistry of green/unroasted coffee bean storage, food safety for cold brew and the identification and characterization of flavor molecules. Ecological sustainability is also a major interest, as researchers are working on the repurposing of coffee cherries (the fruit surrounding the bean) and energy efficiency during roasting and brewing. Research is also underway into the human side of coffee sustainability: the economic and legal framework within which people around the world grow and harvest coffee.
Coffee Center researchers have been published in a wide-ranging set of impactful academic publications, including the Journal of Psychopharmacology. Their work, at the intersection of many disciplines, is poised to continue and catalyze a new era of coffee research.
This story was featured in the Fall 2021 issue of Engineering Progress.
Primary Category
Secondary Categories
Tags